Give them a promo item that they'll want to show off.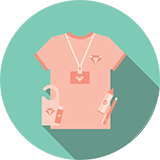 Promotional Items That Remind
CELEBRATE YOUR BRAND'S EXISTANCE IN A FUN WAY.
To enhance your exposure, you need to increase the frequency of your brand's identity. One way we help clients to further the awareness of their brand is through promotional items. Though promo items are typically an affordable opportunity for mass outreach, it's crucial to select the right ones.
Function and fun go a long way.
The right item, created for the right audience won't end up in the garbage or their drawer. Instead it will have some utility that they'll thank you for each and every time they use it. And if it can speak to your brand offerings, that's a huge plus. That's what separates good promotional items from just another tchotchke (pronounced /'CHäCHkə/).

Give them a promo item that they'll want to show off.
A pen might be useful, but unless it has outstanding characteristics most people won't go showing it to their friends. We can help you think outside the box to come up with something that will really be useful to your customers.
Think you know the types of promotional items that get traction? Let's get in touch to create promo items that act as brand ambassadors today.