Let them sit back and take in all you want to be known for.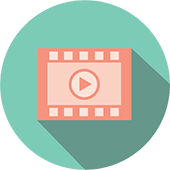 Animation/Motion Graphics
PRESS PLAY; DRIVE ENGAGEMENT; INCREASE CONVERSIONS AND SALES
Differentiate your company from the competition and highlight everything that makes it great with animation motion graphics service. Increase your business' exposure with our animation, motion graphics and video services.
The right video will convert prospects into followers and followers into customers.
For years, people have been watching "TV type" media, they're accustomed to watching. We explore all that makes you great, what makes you different and how you impact your customers lives. We build that around an idea morph it into a single piece of media that allows your viewer to click play, sit back and take in your message.
Another asset for you brand to captivate and communicate.
Want to capture the attention of your ideal customer and keep it? Good – we play for keeps. Our animators will craft a video for your business that tells a story and keeps it interesting. The benefits of a good video that showcases your company in a classic fashion never goes out of style (unless you change your position and value proposition). Businesses that are more established, choose to have several videos which highlight several areas of their business.
Ready for your video? Good idea! If you have questions and would like to talk 1st, we're all ears (mouths, eyes and noses, too). Drop us a note below.