Use design to get the attention you need to grow.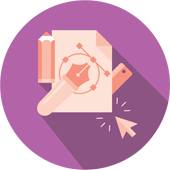 Graphic Design and UX Design
Design only looks easy once it's done.
Good creative graphic design pays attention to shapes, space and color. Exceptional graphic design takes all of the strategic planning, positioning and other strategies and envelopes them into a brilliant visual system that is both on-brand and delivered on time, all the time.
Designed with you (and your customers) in mind.
Our graphic designers will ensure your company always looks its best to your prospective and existing customers and presents a consistent, well-developed style. We'll sweat the details so you don't have to.
Design is art. Art is expression. Expression communicates the art of design.
The emotional connection factor of design often gets overlooked. Many companies do not value design as a cornerstone of their marketing mix and fail to recognize that with an increase in competition comes an increase in choice. It's important to differentiate your products and services from the crowded marketplace and make it easy for them to find you. We use graphic design as a technique to get the attention you want.