Crossed fingers aren't a business strategy.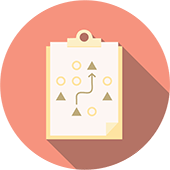 Strategic Planning For Positive Direction
LARGER CHALLENGES REQUIRE SMARTER STRATEGIES
No one sets out to fail in their startup, but it's a reality – not everyone will succeed. However, companies and brands that take the time for strategic planning position themselves properly in the marketplace and give themselves a distinct advantage. As the saying goes, 'fail to plan, you plan to fail' – this statement has never been truer, especially in business.
If you believe what you're selling can make the world better, then it can.
We believe in you, and we want to help you realize a level of success that has no room for "Plan B." Strategic planning will enable you to rise above a crowded marketplace ready to fulfill orders, perform services or both and will strengthen your business.
We'll agree on a strategic plan that aligns with your goals, your company, and your brand – and will never recommend you spend a penny on anything that won't contribute to what you want to achieve. If you ask any good strategist, they'll tell you to "plan. then implement." We like the way they think, strategically, of course, and suggest the same approach.
Crossed fingers aren't a business strategy.

Set the stage for success and drop us a note; we'd love to hear from you. If you'd like to get closer to strategic planning goals today, you can get started now with brandbliss. In fact, you can schedule a call with us or just shoot us a note, and we'd be happy to connect with you!