Bring your customers closer than ever.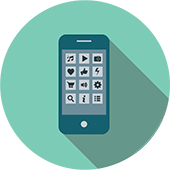 App Design & Development
YOUR NEW APP IS JUST A FEW TAPS AWAY
We have a variety of services, that far surpasses just a website design company. If your company likes to keep their customers close, then let us handle your iOS and Android app design, development to bring your customers closer than ever.
One touch and your customers are connected.
Place your company's information at your customers' fingertips, so they can access it at any point, from anywhere – even if there's no service. From sales transactions and information portals, it's all possible with an app. That's just one of the reasons that apps make sense for smart businesses.
The data alone is worth its weight in gold.
Apps produce a tremendous amount of customer data. From usage and transactions to A/B testing and metric gathering which if interpreted correctly can increase your overall sales. Having an app for your business sends a message to your customers (and competitors) that you mean business. If you're ready to have your app available in the app store, let's make it happen today. Get in touch today and let's do it.