Not every company needs everything.But isn't it nice to know that if you want everything you can have it!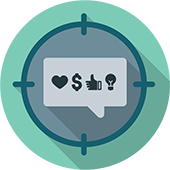 Marketing Communications
BECAUSE YOU'RE SMART ENOUGH TO LEVERAGE YOUR STRENGTHS.
Our initial planning, positioning, design and customer experience gives us the information we need to put our foot on the gas for all your marketing communications. Once your brand is established (and you told us you love it), we use it as the basis for your entire marketing communications plan.
Planning for success is a good idea, especially if you mean it.
We tend to think of these plans like a magnificent fireworks display. The truly spectacular mortars are ignited alone, so that they can take up the whole night sky. Others are best ignited in groups for maximum effect, or in a waterfall display where a new one bursts just as the previous one is fading.
We work behind the scenes for ooooh's and aaaaaaah's.
Every single one of the strategies in your marketing communications plan derives from and reinforces your desire to reach certain goals. Your customers will see consistency from the experience they receive from you, whether it's in your advertising, your videos, your email campaigns or your website.
They'll start to believe in you, and that they can rely on feeling a certain way whenever they interact with your company. That's when your brand really starts to take hold.