Dress your product in something that commands attention.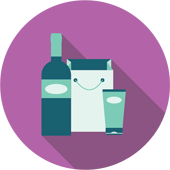 Package Design That Elevates Your Brand
IMPROVE BUSINESS EFFECTIVENESS AND FOSTER A PHYSICAL CONNECTION.
Presentation is everything, and your company's package design must make a quick and powerful impact. A product, even one that people will love, that's enclosed in a poorly designed package will be starved for attention. Let our designers create a package design that's innovative and exciting as what's in it.
Never, ever blend in.
Whether on the shelf or online, your product will be vying for attention among its competitors. Be distinctive with packaging that captures your brand's voice and vision with language and design that sparkles with individuality.
With the right product packaging, your brand can shine.
With opportunity comes choice, and with choice comes uncertainty. Let's maximize your product's chance of shining on the retail shelf with packaging that refuses to be ignored. From design to copy writing services, we are well versed in crafting a product package design that's unique to your brand. We'll help you turn heads and sell products.
Let us turn your concept into an identifiable brand package. Schedule a call with us, or shoot us a note below.