Further your brand's awareness with every touchpoint.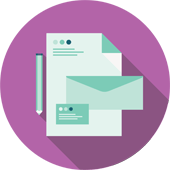 Identity System To Support Your Entire Brand
ALL ASSETS WORKING TOGETHER IN A CONFIDENT BRAND EXPRESSION
With a winning logo and a sharp color palette; it's time to expand your presence with essential items that support your brand identity system. If it's tangible and appeals to the senses, we'll explore it as a way to fuel brand recognition and aid memory. If you can touch it, see it, hold it, watch it or hear it, it's relevant.
Having a logo isn't good enough.
Expanding the reach of your new brand beyond the core items like logo not only creates awareness, but tells the market you're a serious, well-honed business machine that values attention to detail. A well-balanced identity system is responsible for harmoniously weaving your brand in and out of many touch-points of your brand.
The more people see your logo, the more recognizable you'll be.
There are countless touch-points that, working in tandem, create a cohesive experience for your customers as they interact with you. It's best to work with the company that helped create your brand to deepen that brand's identity so that it's balanced, thoughtful and consistent.
Call us today and let us create an identity system that speaks the only language that matters: the language of your brand!